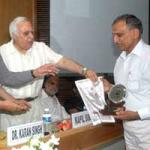 Jammu Red Cross Home  for Handicapped, Udheywala ,Jammu  has been awarded 5th Nina Sibal Award 2007 by All India Women's Education Fund Association in recognition of its exemplary contribution  to enable  Differently Abled  children to live  and grow up  with dignity  into worthy citizens.

The award was presented to Mr. P.C.Kapoor, President and Mr. J.Chhatrapal, Hony Secretary of JRC Home for Handicapped Udheywala Jammu by Mr. Kapil Sibal, Union Minister and Dr. Karan Singh M.P. in the presence of galaxy of prominent social activists, office bearers of AIWEFA and prominent citizens at an impressive function held at India Habitat Centre, New Delhi.

The JRC Home, working for the orthopedically handicapped children since 1976 is the first NGO of Jammu and Kashmir to receive Nina Sibal Award. It was chosen for this honor by a selection committee headed by Dr. Karan Singh among 200 NGO The award, instituted few years ago in the memory of prominent writer and diplomat Late Mrs. Nina Sibal, is given to organizations doing outstanding work for the people with special needs. It carries a plaque, a certificate and a cheque for Rs. 50,000.